Ladies Section
Should you wish to contact The Guelph Country Club Board of directors, please use this email address: yourgccboard@gmail.com
Ladies' Events  – 2023
Ladies' Division Executive for 2023
Captain: Fran Tymchyshen
Assistant-Captain: Jan Heron
Treasurer: Cathy Densmore
Secretary: Sue Martyn
Twilight Rep: Sue Cunningham
Past-Captain: Teresa Kane
Attached is a document showing the Key Dates for Ladies' Division for 2023.
I am sending it early to help each of us make our vacation and visitor plans for the summer.
Looking forward to seeing you at the Opening Dinner on Tuesday, April 25.
Best wishes,
Fran T.
Captain, tgcc Ladies' Division
Ladies' Events  – 2022
Ladies Club Championship Results – 2022
18 Holes
A Flight
Winner – Gail Moore
R/U – Fran Tymchyshen

B Flight
Winner – Jeannine Roberts
R/U – Wendy Cuthbert

C Flight
Winner – JoAnn D'Antonio
R/U – Jane Cullen and Kathy Gallant


9 Holes
A Flight
Winner – Celia Ferguson
R/U – Sue Cunningham

B Flight
Winner – Diana Hambly
R/U – Enid Gough

65+
Winner – Jeannine Roberts
R/U – Fran Tymchyshen

Low Net
Winner – Kathy Gallant
R/U – Jeannine Roberts

Congratulations to all the winners and participants. We had 22 folks come out to play and had a wonderful weekend of competition and camaraderie! Thank you to Teresa, Fran and Paul  Walton.Thank you Sue Martyn and Jeff Robinson for helping with the photos.
Franki Robinson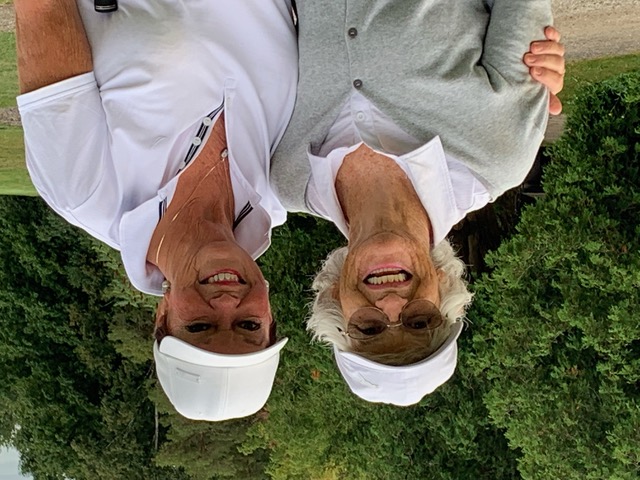 Field Day @ Guelph Country Club – July 19, 2022
Today we had clear skies for our flight to different International Destinations, our theme. We had some 37 passengers and our Chief Flight Attendant, Alison Cunningham gave us our final instructions before our flight!
A Shot Gun Start @ 9am.
We had the pleasure of socializing on the patio at 8:30am. with coffee and some special treats from volunteers. Thank you to those folks.
It was a spectacular day with lots of fun, followed by a BBQ from Jesse's on the Green at 12:30pm., hosted by Rod Pollock and his staff. Thank you to them.
Our Winners and Grinners!!
1st – Franki Robinson, JoAnn D'Antonio and Mary Jane Beinguessner – 35
Most Honest – Jeannine Roberts, Tracy Myers, Erminia Maykut – Tie Breaker!!!
Closest to Wonder Women #8 – Jane Sunduall
Closest to the Pin – #6 – Jan Heron
Longest Drive #4 – Dott Britt – she also had an EAGLE today!!!
Longest putt – Judy Nasby #7
The Ladies Section also held a 50/50 to raise money for the GCC Fund Raiser and this was won by Judy Nasby who donated her winnings back to the Club. Thank you for your generosity Judy.
Thank to Carole Bell and her assistant Diane Harvey for organizing this event. Awesome day!!! She also had some other helpers – Cathy Densmore – prizes and Nancy Yeadon setting up the table favours.
Thank you to Sue Martyn who assisted me with the photos in full safari suit some where out of Africa – photo ready!!
After the prize presentations our Ladies' Captain, Teresa Kane brought us up to date with more events to come. Keep a look out for information and sign up for the Senjen visit and lunch – here at the GCC and at Senjen.
Remember our own Fund Raiser on Saturday, August 6 – sign ups are in the Nook and donations can be made to the Pro Shop – cheques made out to Guelph Country Club or cash.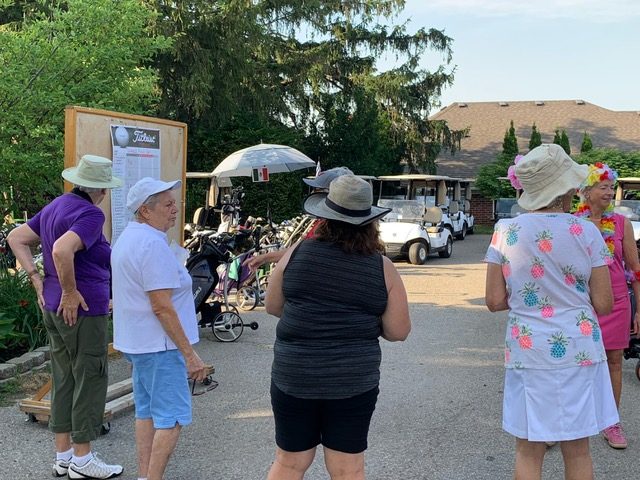 Canada Day Celebrations 2022
This Canada Day we held a 9 hole scramble in the after noon, follow by a sumptuous buffet, music by the band "The Fossil Rockers", lots of laughter and dancing. The winners were John and Celia Ferguson, Cathy Densmore and Franki Robinson with 4 birdies and 5 pars!! They were presented with medallions by the Club Pro, Paul Walton.
Here are the winners and some others in attendance of the 160 people! A great afternoon for all!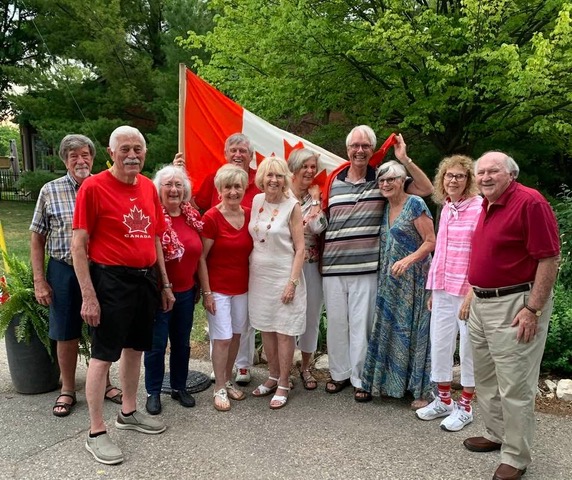 Summer events for 2022
Here is our proposed summer schedule for 2022
July 19th Field Day 9 holes with lunch after
Aug.10th Pool Party at Diana Hambley's 9 holes
Aug 13th 9 and 18 holes club championship
Aug 14th 2nd round 9 and 18 holes championship
Sept.20th Closing Scramble 9 holes with lunch to follow
Sept 27th Closing Dinner
The Scotch 2 Ball and Match Play is on the bulletin board.
Please check your times to play and make arrangements.
Dont forget to email your scores to Celia for the Nasby "Birdie Trophy"
Please keep your score posted and up to date on the computer.
Ladies' Twilight Every Wednesday: 4:00 – 5:45 pm
Twilight League
Wednesday afternoons from 4:00 to 5:45 tee off times are reserved for ladies to play Twilight golf.
Both members and pay-as-you-play ladies are welcome. After 9 holes of golf, the ladies enjoy time together over dinner and drinks on a "join us if you can" basis.
Club Championships
The Ladies' Club Champion is determined by the lowest score posted over two days of 9 holes (18 holes in total) or 18 holes each, (36 holes in total). The Championship is open to all Ladies' golf members.
Ringer Scores, Chip-Ins, Birdie Competitions, Milestone Scores
Sheets are posted in the ladies' locker room for golfers to record their best scores on individual holes (Ringer Board). Also, there are sheets posted for a golfer to indicate when they chip in from off of the green and/or have a birdie. The ladies having the lowest total in Ringer Scores and the one with the most Chip Ins and Birdies will be acknowledged at the end of the season. Sheets are also posted for ladies to mark their first ever score breaking 100, 90, 80 or 50 (for 9 Hole Ladies). These golfers will also be acknowledged at the end of the golf season.
Scotch 2-Ball
Sign up as two person team
Single knockout – Match Play
Both partners tee off each tee and you choose the preferred drive, alternating shots until the ball is holed
50% of difference in total handicaps
Open to all ladies' golf members
Teresa Kane
Ladies's Captain -2022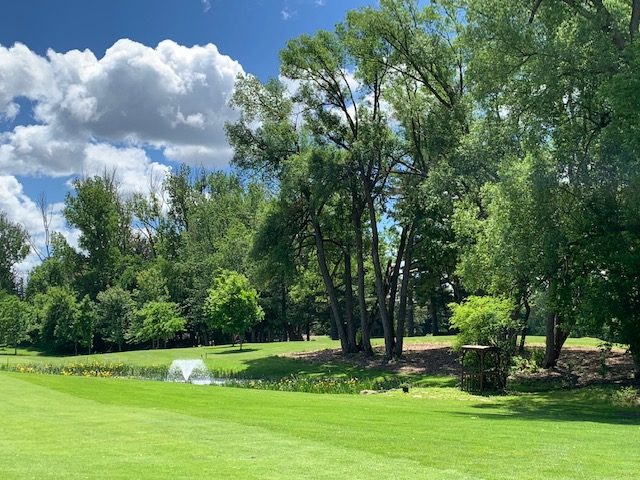 Thank you to the volunteers- Andrew and Erminia Maykut, Beryl Librach and Franki and Jeff Robinson for the flowers on our course.
2022 Ladies Opening Scramble,  Tuesday, May 3rd
Total of 38 golfers enjoyed a beautiful morning of 9-hole golf  – "Scramble with String".
Low-Round (37)
Wendy Cuthbert
Sharon Ready
Teresa Kane
Denise Trainor
Most Honest Golfers
Sue Cunningham
Susan Arget
Holly McDougall
Kathy Gallant
Longest Drive #2 – Franki RobinsonLongest Drive #4 – Gail Moore
Closest to the Pin #6 – Dot BrittClosest to the Pin #7 – Alison Cunningham
Thank you to Captain Teresa Kane, Fran Tymchyshen, event organizer/results and Paul Walton, Golf Pro.
Thank you to all the folks who supplied great breakfast treats and coffee.
Photos supplied by Franki Robinson and Jan Heron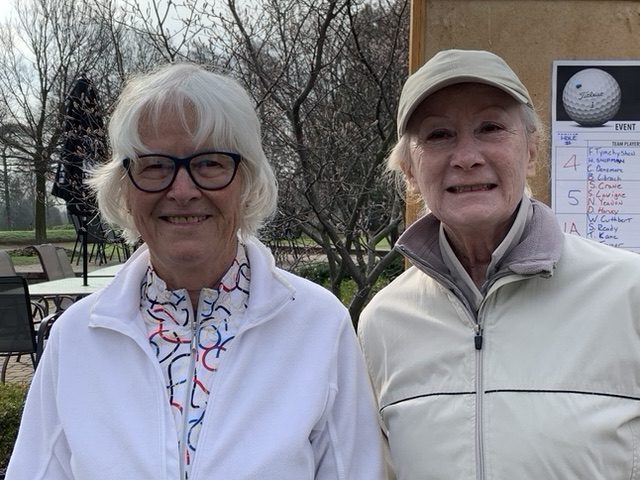 ---
End of Season "Picklers" at the Guelph Country Club – 2022
On Tuesday, April 12, the ladies pickle ball players gathered for the end of season games and enjoyed a luncheon on the patio to celebrate.  We had some 14 -16 players out and most stayed for lunch.  We had beautiful sunshine and it was wonderful to be outside to eat.
Thank you Cathy Densmore for organizing the season and the collection of fees etc.  So great to have an organizer on the team!
Many of us will now turn our thoughts to sunny days on he golf course.
Be well and let's stay healthy!
Franki Robinson
Pickle ball
This week we celebrated St. Patricks's Day with the "Picklers" from the Guelph Country Club. We had 14 ladies playing and Captain Cathy brought along green cookies and Manhattan shots! Most players found something green to wear or dress up in.  It was a fun morning and the sun was shining as we left the building!!  17C – Whoo Hoo!!  Golfing soon!
– Franki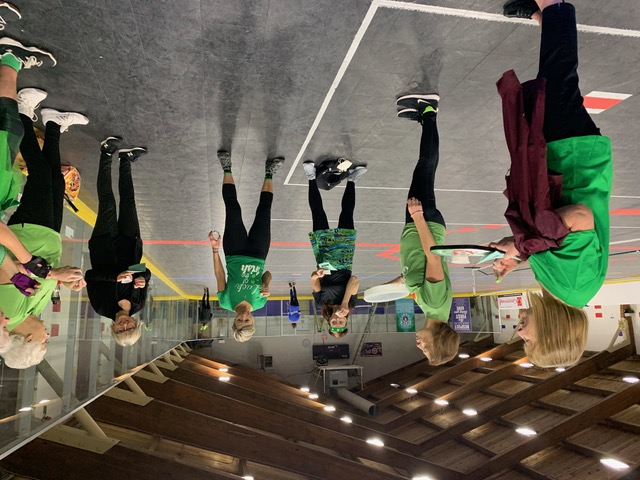 2021 Events
May 5 – Twilight League Begins (Wednesdays)
June 22 – Shotgun Scramble – (replaces Guest Day) & lunch :CANCELLED:
August 10 – Club Championships – Round 1 – 9 & 18 holes.
September 21 – Closing Scramble
September 28th – Closing Dinner (Covid-19 permitting)
There will be Match Play and Scotch Two Ball for everyone. There will be 15 days when we will have friendly competitions over 9 holes, thus giving everyone the opportunity to participate.
–Celia Ferguson – Ladies' Captain, 2021
Watch this page for more news and photos!
GUELPH COUNTRY CLUB
VALUED GOLF MEMBERS
FUN FUN FUN


Saturday September 18, 2021, we are hosting our first annual golf tournament open to all members

9-hole scramble mixed format teams drawn randomly

Open to all members with a minimum $20.00 donation and $20.00 for and all you can eat barbeque on patio total $40.00 minimum (you can choose to donate more)

Prizes for both men and women golfers for the following:

closest to the pin, longest drive, closest to the object, closest to the pin on 9 on your second shot and other possibilities.

Party atmosphere on the patio, 50-50 draw. Raffle draws restricted covid-19 guidelines in effect

The donation is to upgrade the pond on hole number 5 with a pond aerator with an estimated cost of $3500.00

You can participate in the 9-hole scramble if you are a Full-time member, Week-day member, Intermediate, Seven Day Restricted or a Golden Member (no additional golf cost even though it is a Saturday).

We are hoping to have participation from all our members, and we are looking at making this an annual event. We will do more than 1 scramble if participation numbers warrant another start.

We are looking for volunteers that would like to be part of this new experience and improve the looks of Guelph's premiere 9-hole golf course.

If you have any questions please contact Chuck Miller, Sue Cunningham, Frances Robinson and Kevin Gardiner

Please sign up at the pro shop by September 10, 2021.
---
GCC Club Picklers – 2021
---
When we can't play golf we play pickleball! Most of our ladies got together for a small Christmas lunch at the Guelph Country Club. It was so nice to gather together and celebrate for Christmas. Thanks to Cathy Densmore, who organized a small competition and prizes. Judy Nasby organize a little gift for Cathy to thank her for managing the Tuesday and Thursday groups. Thank you so much both of you.
The winners were:-
First – Jan Craig, Second – Franki Robinson and Third – Janet Brewster! Congratulations ladies!
It was a fun morning followed by lunch and lots of chatter!!
Franki Robinson
---
---
Results for September 14, 2021
 Not only is Gail Moore our club champion but on September 14th. she proved to be the smartest. Her pick of Diane Harvey proved to be a winning duo. Gail's low score of 43 also helped proceedings too.
Gail and Diane had a net score of 71 and were in the money.$$$
In second place was Celia and her pick was Donna, a net score of 73.$$
Sue Lavigne also picked Donna, Roberta picked Carole Bell and Carole picked Roberta, all 3 duos had nets of 76, no $ – I'm afraid. 
Heather and Roberta shot 77, and Diana and Fran, JoAnn and Roberta, and Diane and Jeannine all had nets of 79. I won't bother you with all the scores but I did find it interesting and engaging.
Over 70 for this week, Sue Lavigne was the winner with a net 33 followed by Celia and Donna with 35 nets. The finale with all the results will be announced at the Closing Dinner, My goodness it was close!
Closing Scramble, September 21st., 9:30 Shotgun followed by Tacos for lunch 陵 and it's going to be warm.
Therefore I need to know:
1. Are you playing?
2. Are you staying for lunch?
Please email me the answer to both questions.
Closing Dinner, September 28th., approximately 5:30 for cocktails  and it will be in the main dining room with a smaller number than usual following Covid protocol and double vaccinations proof.
Dinner will be a salad on the table followed by a stuffed chicken breast or salmon with vegetables, followed by deserts and tea or coffee. The cost will be $35.00.
Please inform me by email if you are planning on attending and also if you would like  or salmon . Special dietary needs please request.
I hope you can absorb all this and respond as soon as you can.
Next week is going to be gorgeous!
Celia Ferguson
Results for July 20, 2021
Well Ladies that was fun, some of the scores were fantastic, obviously playing 9 holes for 2 weeks is better than one week!
I split the tournament so that those who only played one week had a little competition.
One week: 1st. Fran Tymchyshen with a net 34 2nd. with a net 37 was Dot Britt, and 3rd. with a net 39 was Erminia Maykut – well done ladies!
Eclectic Tournament, a lot more people and tough competition.
1. With a net 27(drug tests please), was Kathy Gallant, 🤩
2. With a net 29 was Heather Shipman
3. With a net 30 was Teresa Kane
4. All with net 32 and winning each were: Roberta Cathcart, Alison Cunningham, Cathy Densmore, Jan Heron, Sue Lavigne, Jeannine Roberts and Muriel Martin.
This was a super exciting tournament because everyone else scored in the net 30s with the highest score being 36, see how close everyone was, handicaps work.
Now the Over 70 trophy 🏆 This week's winner is Sue Martyn with a net 30 and the 3 points followed by Heather Shipman and Roberta Cathcart with a net 32 and an additional point each.

The standings are now: Teresa leading with 14 points, Sue Lavigne with 13, Jeannine and Diane with 12 each, Sue Martyn has 11, Franki has 10.5, Wendy, Anne Bakhle and Roberta each have 10.
Celia Ferguson (Ladies' Captain)
Upcoming event!
July 27, 9 Shades of Green, Field Day. Shot gun start at 8:30am.
Menu: Morning coffee – 8am.
Lunch – BBQ – choices – burgers – veggie and regular, chicken breast, sausage and choice from two salads – GCC salad or Caesar salad. Condiments provided plus tomato, lettuce, onions and relish
Dessert – ice cream on a stick – two choices – perhaps vanilla and chocolate.
Coffee and cream and sugar for lunch too.
Cost $20 – tax included. Tip not included.
Ladies will sign up for their choice of lunch on the patio with Sue and we will give it to Rod before the shotgun start. Ladies will have the cost added to their account or pay at the hut.
Franki Robinson and Sue Martyn
---
Ladies' Golf Results, Tuesday, July 13, 2021
Hello Ladies,
I think the Eclectic title put some people off their game. I, for one have all 9 holes to improve on next week and a few others probably have similar comments. There are always a few exceptions (or show offs), right Teresa and Fran, both had good rounds and Heather who birdied the sixth, try and improve on that one Heather!
I know that a few people can only participate in one of the two weeks, so we'll have a little tournament for that group too. Next week your scorecards will include this week's scores so you will know which holes to improve on.
Now to the over 70 trophy 🏆.
This week the big winner was Teresa Kane with a net 32, followed by Fran Tymchyshen with a net 34. Great rounds Ladies!
Standings are: Teresa with 13 points on July 13th.! Sue Lavigne has 12, Jeannine and Diane have 11 each, Franki 9.5, Wendy and Anne Bakhle have 9 each, Celia and Fran have 8 and nearly everyone else has 7 or 6. It's very close.
Celia Ferguson (Ladies' Captain)
---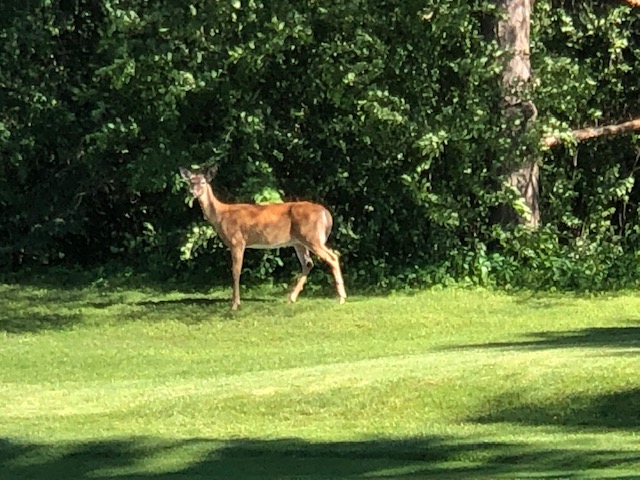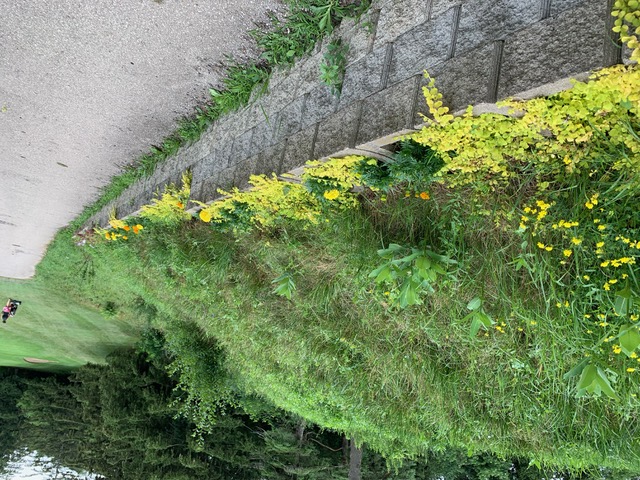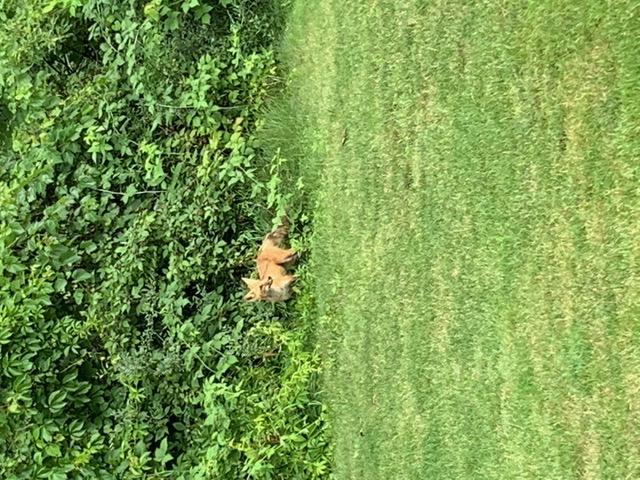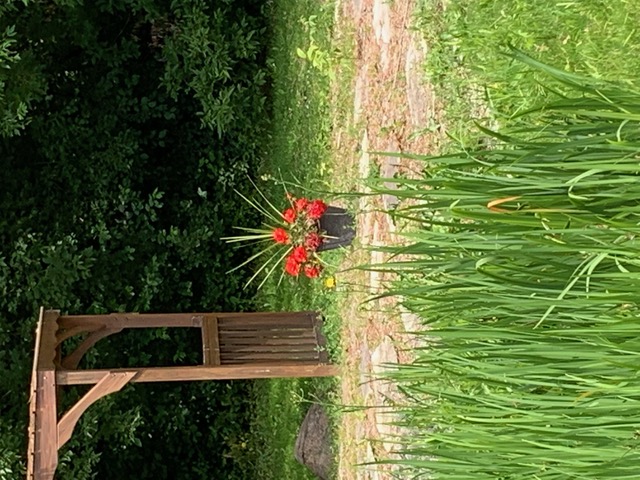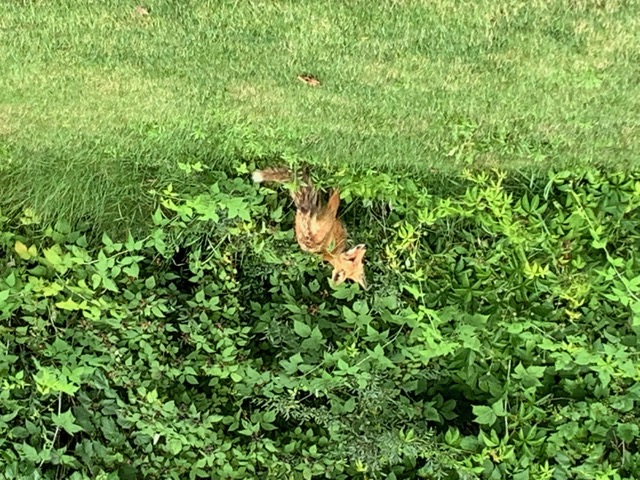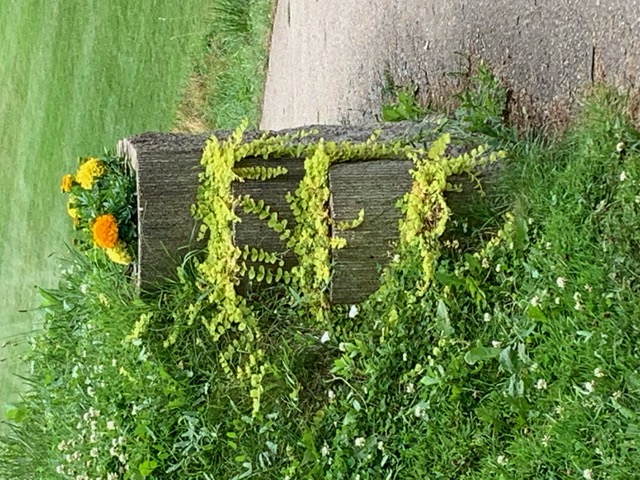 ---
Ladies' Golf Results, Tuesday, July 6, 2021
Hello Ladies,
It was so nice to have Sharon Ready out yesterday, she is a new member but also has employment, so she decided to spend part of her vacation with us.
Results of the Over 70 trophy 🏆
Wendy Cuthbert had the low net of 32, followed by Sue Lavigne and Celia Ferguson scoring nets of 33 each.
Standings are as follows:
Sue Lavigne 11 points, Jeannine Roberts and Diane Harvey each have 10, Teresa Kane 9, Franki Robinson 8.5, Wendy Cuthbert and Anne Bakhle each have 8 points.
Everybody is still close, even the rest of us.
Blind Partners
I tried to make it fair by pairing high and low handicaps.
1st. Place with a net 69: Jeannine Roberts and Kathy Gallant .
Tied for 2nd. Diana Hambly/Sue Lavigne and Heather Shipman/Connie Thornton.
Tied for 4th. Franki Robinson/Sue Martyn and Celia Ferguson/JoAnn D'Antonio.
Congratulations everyone, we made it through that heat.
I'm still anticipating a couple of handicaps will get updated!
Celia Ferguson (Ladies' Captain)
---
Ladies' Golf Results, Thursday, June 29, 2021
Hello Ladies, we got it in, it was a hot one! 
I only had to do one thing when I finished and that was collect the Blind Mice from the Pro Shop, I forgot and had to call 📞 when I got home. So this is where the blame game starts, Gary answered the phone ☎️ and picked #2, 4 and 6.
The results were all pretty close with everybody scoring in the 20s. There were in fact 3 winners all with a score of 21 and a 4th. place of 22.
Anne Bakhle, JoAnn D'Antonio and Sue Lavigne were the big winners and Colette Eston collected 4th place.
The over 70 trophy 🏆 had another different winner this week, Anne Bakhle was the low net with a net 32.5, Sue Lavigne and Jeannine Roberts each had a net 35, these Golden Oldies are something else!
The standings now are Jeannine, Sue Lavigne and Diane Harvey each have 9 points, Teresa has 8, Franki has 7.5 and Anne Bakhle has 7. The rest of us have our attendance points.
Congratulations to all the winners! Have a great Canada Day!
Celia FergusonLadies' CaptainGuelph Country Club
Note to all members from Franki Robinson
We hope the computers will be up and running soon.  In the mean time if you have to cancel a tee time through the Pro Shop, as a courtesy could you email the folks you were to play with to let them know you will not be showing up. Several players, myself included have been left high and dry as all people have cancelled and not notified the the other three players in the time slot.
Results from June 22, 2021
We got off to a cool start yesterday, but my goodness it had a tremendous affect on some people's games. I needn't have worried about low handicaps stealing the show, the winners were dominated by mid and high handicaps. Congratulations Norma on your 🦅 on the 16th hole.
The Over 70 competition is still a tight race: yesterday's low net was Jeannine at net 34, followed by Diane Harvey at 34.5.
The standings are now: Diane with 8 points, Sue Lavigne, Jeannine and Teresa each having 7 points, Franki with 6.5 and Rose with 5.
The  "also rans" – got the usual points for attendance.
Congratulations to the "Winners and Grinners"!
Cathy scored a net 31.5, congratulations 👏 
Enid Gough was second with a net 32 👍Jeannine Roberts was third with a net 34 😃
Diane Harvey was fourth with a 34.5 net 😃It really was close and well distributed, Roberta had a net of 35 and Heather had 36 😃
Celia Ferguson
---
Weekly Results – May 25 and June 1, 2021
Over 70s trophy 🏆
May 25th. Both Judy Nasby and Franki Robinson had low nets of 38, that leads them off with 3.5 points each. Remember everyone gets a point for attendance.
June 1st. Week 2 was won by Teresa Kane with low net of 36 closely followed by Diane Harvey with a low net of 36.5. Didn't both these ladies win this 🏆 before? So the overall standings now are: Teresa 5, Judy and Franki 4.5 each and Diane 4.
Now for the competitions!
May 25th. Throw out the worst hole! 1st. Donna Knox with 29.5 2nd. Susan Crane and Franki Robinson each had 30 4th. Diana Hambly and Rachel Cameron each had 30.5 After that there were 5 ladies with 31 each. The scores were all very close.
June 1st. Mutt and Jeff. 1st. Susan Crane with net 13 on those 4 holes. The newest and most winningest member so far, but I'll be watching your handicap! 2nd. Fran Tymchyshen with net 14. 3rd. With a 3-way tie of net 16 – Donna Knox, Sue Lavigne and Jeannine Roberts.
Next week I'll put all the 18s and 9s in separate groups to try and speed up play. That does not apply to you ladies who are still working or have special requests for appointments etc., I will still take that into account.
Have a great week,
Celia Ferguson (Ladies' Captain)
---
Weekly Results – June 15th, 2021
Hello Ladies,
What a wonderful day yesterday was, perfect weather, great company and finally a chance to socialize.
Stars don't always come out at night, one or more shone yesterday playing golf. I noticed Cathy Densmore had a Birdie on #6 and Sue Lavigne shot a net 34 to tie the lead with Teresa Kane in the over 70 trophy. Dot Britt and Rose Steinhoff followed closely behind Sue with nets of 34.5. Well done 👍.
Now on to the little side game: the 3 Ball Aggregate.
There were 2 teams tied for 1st. place and 2 teams tied for 3rd. and 4th. places. All the other teams scored very similar scores between 114 and 125, which show handicaps do work!
I had to take one player from a 4 person team to add to a 2 person team, to make things fair, but both these teams won anyway.
Tied for 1st. Dot Britt, Anne Bakhle, Teresa Kane. Kathy Gallant, Jan Heron, Franki Robinson. Both teams had a net 108.
Tied for 3rd. Diana Hambly, Heather Shipman, Connie Thornton, Karen Bonham.
Sue Lavigne(she needed more help from her team), Celia Ferguson, Norma Zuccala.
Both these teams scored 110.
I hope you enjoy these silly little games as much as I enjoy scoring them.
Celia Ferguson (Ladies' Captain)
---
---
2020 Events
Click on the links below to read information and view photos about each of our events!
---
Message from Fran
Hello Golfers,
The Ladies League Executive met this week to wrap up the season. This included selecting the Executive positions for the 2021 season with a new structure that was agreed to by our members at the Closing Scramble.
The number of members on the executive has been reduced by merging captain and assistant captain for 9 and 18 hole groups. Also, we have removed the requirement that the assistant captain must become captain in the following year.
The Ladies' League Executive for 2021 is:
Captain: Celia Ferguson
Assistant Captain: Teresa Kane
Treasurer: Cathy Densmore
Secretary: Sue Martyn
Twilight Convenor: Sue Cunningham
Looking forward to a few more weeks of golf and then on to next year.
Now that we have adjusted to the COVID protocols, we hope to offer as much as we can of our regular events and competitions.
Looking forward to a few more weeks of golf.
Stay Safe.
Thanks to everyone for supporting me through the golf season.
Fran T.
Captain
---
Closing Scramble and Trophy Presentations -2020
Today we had our Closing Scramble and Trophy presentations at the Guelph Country Club. It was a brisk morning for our final golf event of the season. Coffee, muffins and ponchos were the theme to kick start the day with a temperature of 10C! We had some 29 players in attendance. The sun did try to shine for some of the morning. Thank you to Cathy, Holly and Franki for the muffins.
After a shot gun start the Scramble was followed by a lovely lunch of chicken salad and chicken wraps. Thank you to Jeannine for organizing from Jesse's on the Green. Nancy provided chocolate snacks to all tables and Jeannine baked delicious cookies for dessert.
Thanks to Fran (Ladies Captain) who hosted the day and Cathy who organized the prizes. This was followed with a meeting to discuss next year's procedures.
Also, a big welcome to our new members, Pachal Leelawathie and Kathy Gallant.
Thank you to Celia for working on the draws and Paul Walton our golf pro.
We all had a great day and look forward to the last couple of weeks of golfing in these Covid times.
Stay safe.
Franki
---
Ladies' Club Championships 2020!
Tuesday is our last day of the Ladies' Section Club Championships. This is our first year we have had this event during the week, over two consecutive Tuesdays. There were 20 ladies who came out. We had an A Flight, B Flight, C flight, 9 Hole Players HNCP 39 and Under and 9 Hole Players HNCP 40 & Over.
We wish everyone the very best of luck in their games. Below are the Summer Rules for our course.
The Provincial protocols enacted on August 7, 2020 will have to be followed for us all to stay safe.
COVID-19 protocols need to be strictly adhered to
SUMMER RULES
GUR – GROUND UNDER REPAIR – MARKED IN WHITE – NEAREST POINT OF RELIEF – NO CLOSER TO THE HOLE – WITH IN 1 CLUB LENGTH – DROP – NO PENALTY
NEW SOD AROUND SPRINKLER HEADS – GUR
#1, #5 AND #7 NATURALIZED AREAS PROCEED TO NEAREST DROP CIRCLE – 1 STROKE PENALTY
#2, #6 & #7 GREEN – BALL IN DAMAGED AREA ON THE GREEN ONLY – YOU MAY MOVE THE BALL OUT OF DAMAGED AREA NO CLOSER TO THE HOLE STAYING ON THE GREEN – NO PENALTY
#8 LEFT OF WHITE LINE NEAR GREEN PROCEED TO NEAREST DROP CIRCLE – NO PENALTY
NO RELIEF LEFT OF #9 GREEN – PLAY IT AS IT LIES – IGNORE FADED DROP CIRCLES
BUNKERS – "TIP – UPS"
LOST BALL OR OUT OF BOUNDS – PENALTY IS STROKE AND DISTANCE
IF A BALL BOUNCES OFF METAL ROD ON FLAG STICK AND DOES'NT GO IN – IT IS NOT CONSIDERED HOLED – "RUB OF THE GREEN"
IF YOUR COUNTING – PUTT OUT
---
Field Day, July 21, 2020 – Covid-19 style!!
Today we had 45 ladies out for our first event of the season – Field Day. This was organized by Teresa Kane and Sue Cunningham. Cathy Densmore did a great job of wrapping and organizing prizes. Fran Tymchyshen our Ladies Captain informed all players of tee times and rules.
We had some wonderful weather and played 9 holes with 3 clubs and a putter. Jeannine organized our lovely salad lunch and coffee. Thank you to all these folks for your volunteerism to our club.
Winners and Grinners!!
First place: Team – Rachel, Anne Budra, Diana and Celia with 154
Second Place: Team – Teresa, Heather, Cathy and Jeannine with 158
Third place: Team – Diane Harvey, Fran and Colette with 159
Congratulations to Rachel Cameron for 46 off the stick!
Congratulations to Judy Nasby for her Hole in One over the weekend!! Wow!!
https://photos.app.goo.gl/uH8W94NLnJthqaHy5
---
MAXIMUM HOLE SCORE
Under the new WORLD HANDICAP SYSTEM the maximum score you may count on a hole is a NET DOUBLE BOGEY, which is a double bogey + any handicap strokes you receive on that hole.
EXAMPLE'S. –IF YOUR HANDICAP IS 9, you would receive a stroke on handicap holes 1-9. On those holes your maximum score is a double bogey + 1 = 3 OVER PAR
Handicap holes 10 – 18, you do not receive a stroke, so your maximum score is a double bogey, 2 OVER PAR.
IF YOUR HANDICAP IS 18, you would receive a stroke on every hole, so your maximum hole score is double bogey + 1 = 3 OVER PAR
If YOUR HANDICAP IS 27, you would receive a stroke on handicap holes 10-18. Maximum hole score is double bogey + 1 = 3 OVER PAR
Handicap holes 1 -9 you receive 2 strokes, so your maximum hole score is double bogey + 2 = 4 OVER PAR.
* You may also enter your scores hole by hole and the computer adjusts scores accordingly.
FOR MORE INFORMATION, PLEASE GO TO THE GOLF CANADA WEBSITE.
---
SAFETY PROTOCOLS FOR YOUR NEXT ROUND
DON'T
-come to the course if you are coughing, feverish, or exhibiting sickness.
-arrive more than 30 minutes before your tee time. The practise net is closed, the putting green is reserved for the on deck group. Maximum 4 people.
-linger around the club after your round. You must leave the property as soon as possible. We hope to use the patio with physical distancing when this changes.
-bring cash. ONLY debit & credit accepted.
-touch the flagstick.
-expect to rent clubs. Club storage is not available.
-expect to rent a power cart on arrival. They must be rented in advance. Single rider only. They will be sanitized
-shake hands
-complain about conditions or service. Staff must be protected and are doing their best to keep you and them safe.
DO
-maintain physical distance of at least 2 metres or 6 feet
-make an advanced tee time – no walk on's-online payment preferred.
-bring your own hand sanitizer
-expect portable toilets to be sanitized
-bring a garbage bag to take it with you when you leave. Please don't leave your garbage on the course.
-tip ups in sand traps. There are no rakes.
-bring a towel to clean your golf ball. There are no ball washers.
-use your putter head to lift the wire coat hanger attached to the flag to get your ball out of the hole. Don't touch the flagstick.
-go to your car if there is threatening weather. Clubhouse and pro shop are closed.
-expect to be asked to leave if not following protocols.
-understand you are using the Guelph Country Club facilities at your own risk.
---
A Message for the 18 Hole Ladies League
Hello Ladies!
No word yet on an opening date!
Hope you are Safe-At-Home. Each of us is looking forward to an announcement from the Province and then our Board of Directors on the date our club will open for the 2020 golf season.
Although the chilly temperatures in the last few days have not been ideal for golf, everyone is ready to get outdoors and swing their clubs in the wide open spaces! It was great to see Franki's photos showing all the course improvements and maintenance that Paul Brown and his team have completed.
I have been in regular contact with our pro, Paul Walton. He is eager to get going but there will be many accommodations and restrictions to meet the COVID-19 health and safety requirements. Details of the protocols to be used at our club are being finalized and will be communicated closer to the opening date.
There are lots of unknowns at this point. Initially, no Ladies' League activities are planned until booking and playing in the "new-normal" gets sorted out over the first few weeks of play.
I am sending you this email because you are designated as member who plays with the Ladies' League "18-holers". If your situation has changed, or perhaps you have decided to play with the 9-hole group, please email to keep our records up-to-date.
It will be so-oo-ooo good to pull out our golf gear and see everyone!
Stay Safe!
Fran T.
Captain, tgcc Ladies' League
---
A Message for the 9 Hole Ladies League
Hope this posting finds everyone Happy, Healthy and itching to get the clubs swinging !!
We are still awaiting the official date from the Club as to when we can start golfing. Paul Walton will advise the protocols for league playing. I think we will all agree the social events – such as Guest Day and Inter Club, will be on hold for this year.
The Golf Club will "not" be storing any clubs or personal carts.
There will be no push or pull cart rentals.
Shared power carts will not be allowed – unless you are sharing with a family member.
If you have a locker rental – you must have any personal belongings removed immediately.
There are still a lot of questions to be answered and I am sure Paul Walton and Gary Moore will keep us informed.
Paul Brown and his team have done an excellent job in getting the course ready for play. Lets hope now that the weather co-operates !!
Lastly – if I have sent this email to anyone who's membership or situation has changed – please contact me by email I will have have my records updated.
Take care and stay healthy.
Thanks
Holly McDougall
9 Hole Ladies Captain – 2020
---
2020 Season Dates
Ladies Opening Scramble – May 19
Field Day – July 21
Ladies Club Championships – August 9 and 16
September 15 and 24 – TBA
---
Click on the links below to read information and view photos about each of our events!